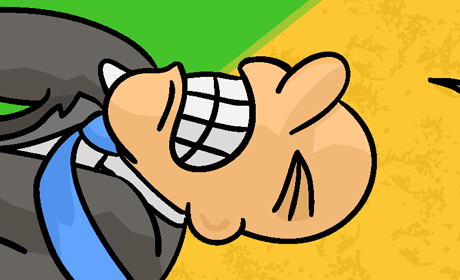 The Road to Failure is Feature-Filled
I have previously worked in Startups and I remember the experience as soul-sucking and depressing. From my experience in the beginning a Startup is a nice ship leaving a harbour on the maiden voyage; soon there is an iceberg, few life rafts and a never-ending visage marked in the past with wasted hours that drift upon the sea as driftwood.
Problem Solving: Minus 101 (credit @thingsesque)
Sure the process left me with lots of experience : Working with others; trying to get others on board with a project; selling an "idea" rather than a physical or digital product. They have all been useful in my life working for clients, either directly or indirectly – especially when we live in an age when everyone has an idea for the next-greatest thing.
When I look back I keep thinking about wasting time on small things. Sinking hours into features that are not properly documented or thought out. Not listening to advice from others who gave feedback from outside the industry. We were sure that the project was brilliant and that everyone else didn't understand how it worked. It was new and fresh and no-one else was doing it.
We had the best new product on the market and everyone who gave us advice just didn't understand what we were trying to do. We were hipsters and we were wrong.
Views from outside the industry are "grounding". If all the input you receive is from inside your own industry you will grow stagnant. Some outside input may be incorrect but it should give you another angle to solving a problem – and because it is a Startup you will have problems.
Really, it was arrogance. We had the solution to everyones problem. We were the ones with the revolutionary thought in mind. There was no competition because we were creating our own market. We were the Kings and no-one gets to challenge the King in his Own Land.
Looking back on this now I see lots of things that were good.
Soul Crushing
You may not realise it now but life is difficult. It gets hard to create something that has value; parenting is easy if all you do is put you kid in front of the TV and feed it chips, the result is average though. In reality, parenting is hard if the result you are after is a grounded individual who has a go at living "life".
Creating a Startup is hard work. It should be, no brand new road is easy to make. You will get pushed back and destroyed. People won't "get" your product. You will have to sell it and you will have to keep getting back up after falling down.
I would say that if you cannot take rejection you should stop now. But there is no way you would listen to that kind of advice; nor should you. Follow your heart and give everything to this project. Just don't come crying to me when the Startup fails – you have been warned.
Listen to Advice
While difficult to listen to you should write a list of all the ideas people give to you. Go over them later on, when the emotions have worn off and you have a clear mind. The smallest hint in a different direction could take you to the best idea you product needs.
Allow the advice of those who have gone before you to sink in. While you may be creating something fresh what you are doing is not new. Humans have been involved in Startups since the beginning of time. It doesn't matter the industry you are in, just listen. Do be too arrogant to think that you are the creator of something new; it isn't new, it may very well be different, but it isn't new.
Everybody wants advice until somebody gives it to them. Don't be that person. Stop and listen.
Have the courage to be wrong
You will be wrong about projections. You will be wrong about the market. You will be wrong about features to add. You will be wrong about which staff to hire. You will be wrong about which direction to head. You will be wrong about marketing. You will interpret analytics incorrectly. You will be wrong about estimations. You will be wrong about market share.
Being wrong is not bad. It is a benefit of being in a Startup. You are just starting to get your feet into the marketplace and trying to find out what to be – like a teenager going into high school. Have courage to be wrong because it will lead to many lessons and could open many doors that you never knew existed before. A locked door is still a door that you have attempted to go through before.
Sometimes the courage to be wrong will lead to something right.
Walk Away
You want this to be the best it can be. Do not leave potential on the floor, because the day the Startup stops is the day you want to be finished with it. When a Startup fails it should be dead, with no life left in it. No new ideas should be around. You should walk away with no care for what was left behind in that dark room.
Woe to the founders who have new features or half-implemented ideas when the project is dead. Those ideas bring hope and that hope will keep you returning to your project because it will never be completely dead in their mind. Too much mind space is burned by half-finished Startup projects and the longings of their creators to return and finish them one day. A dog returns to his vomit.
Dedicate your time and effort to bringing a polished project to fruition. Document your thoughts and ideas. Make sure that every bit of potential is put into the project so you can walk away happy, knowing that there was nothing more you could do to make it work. Then the project can die and you can move onto the next thing.
---
Working with or in a Startup is painful. I have never been involved with a successful project and I look towards working with a project with very little hope of it working at all. Why should there be hope in business anyway, it is overrated. Hard work and failure are the fruits of many businesses. The path to success is a small track hidden off one of the many paths heading towards Failure and it is not found sitting down doing nothing.
*Image concieved and drawn by @thingsesque